Pressure Washing Spring TX
#1 Pressure Washing
in spring tX
Driveway & Concrete Pressure Washing
Don't let your pavement change colors. Restore the original appearance of your driveways, walkways, and patios with professional power washing services.
Like other areas of your home, concrete driveways, sidewalks, walkways, patios, and walls should be cleaned on a regular basis to be properly maintained. You may not realize just how dirty these concrete surfaces are until they've been cleaned! Get your homes curb appeal back with an easy, fast driveway cleaning service. Motek Pressure Wash uses a detailed approach because we treat your home like it's our home, and our team's goal is to make your exterior surface look like new at very affordable rates!
House Washing & Roof Cleaning
Roof and siding maintenance is extremely important in the harsh local climate. Over time, algae and dirt can begin to degrade exterior surface materials. If these contaminants are not cleaned and removed from the roof, they may lead to an extremely dirty roof and costly repairs; even roof replacement, house washing is also just as vital to the health of your home.
Motek Pressure Washing offers professional roof cleaning services and we use safe yet effective products to clean your roof, siding, and gutters. Our specialty solutions reach deep into the surface to safely break down and rinse away mold, mildew, and other damaging material. Our low-pressure chemical soft washing application process is extremely safe for any roof, siding material, and the environment. Not only are you protecting the service life of your roofing system, but also maintaining and promoting a clean property.
#1 Choice pressure washing in greater houston
What You Can Expect With Our Services
Pool Deck Pressure Washing & Lanai Cleaning
Our professional cleaning team is ready to rejuvenate your decks, fences, and patios for your summertime  enjoyment.
If you're looking for brighter spaces or for help with seasonal outdoor clean-up, contact Motek Pressure Wash. Our team is ready to help with your deck, fence, and patio clean-up projects and will give you a great space for enjoying any season. We offer great options for cleaning almost any surface including wood, cement, stone, metal, and much more. We use quality, safe cleaning solutions and our team uses techniques to protect the surrounding area to remove years of mold, mildew, algae, and other materials that can make your outdoors look and feel uninviting.
Gutter Cleaning (Coming Soon)
Keep your gutters working correctly with a professional pressure washing service. 
The professional team at Motek Pressure Wash has the equipment and experience to help you clean up and protect your home or business safely and effectively. We work with a variety of structural surfaces and understand how to use our equipment to remove years of debris, stains, algae, and mold from your roofing systems and gutters without creating more headaches for you. Our team will use high, low, or no pressure washing techniques as needed to deliver a clean roofing system that will operate efficiently or ready for your repair or improvement projects. Contact Motek Pressure Wash today for additional information or to schedule a free estimate.
Paver Cleaning & Restoration
Rediscover outdoor living with professionally cleaned spaces.
Motek Pressure Wash is proud to offer high quality, cost effective cleaning services for all your outdoor living areas. We offer pressure, power, and softwash services for your decks, fences, patios, and always work carefully to protect your property from any damage or harmful materials during the cleaning process. Our solutions and solvents are safe for use in most conditions and we always deliver a professionally cleaned space for you to enjoy. Contact us today with any questions or to request a no-obligation estimate on your next cleaning project.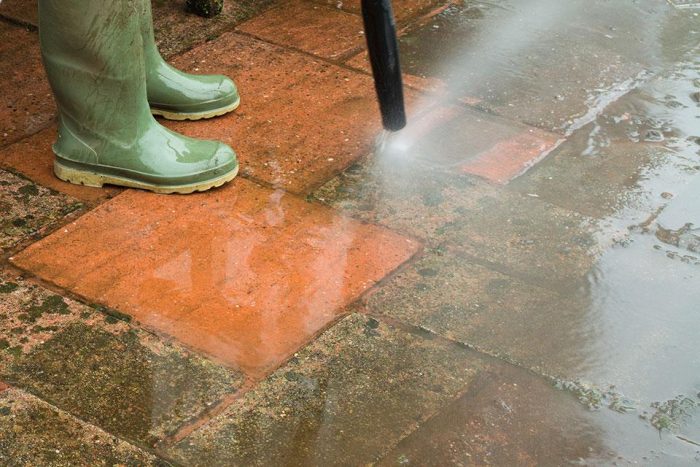 Deck & Fence Pressure Washing
Regular fence cleaning services are an important preventative maintenance measure.
If you think you might need a new fence, put that thought on hold. Why spend thousands putting in a new fence when all you had to do is get the old one professionally cleaned. Most experts recommend periodic cleanings to ensure that your fencing looks great, resists accelerated wear and tear, and doesn't get exposed to irreversible damage. Plus, you'll have the benefits of instant curb appeal. Contact us for a free estimate. Our prices are very competitive and affordable.